SIGNAL CONDITIONERS
Isolated Signal Conditioner
MS4000-2W

Series

【3】
Rack Mount Type Signal Conditioners with Isolated Dual Output
Isolated Signal Conditioner:Temperature Transmitters:RTD Temperature Transmitters

MS4000-2W

Series

MS4002-2W

Rack Mount Type

2-Wire RTD Temperature Transmitter
Supplies constant current to 3-wire RTD, performs cold junction compensation, amplification and linearization of its millivolt input signals, and provides two-wire DC current signals (4 to 20mA) for standard DC drive.

Input

RTD: Pt 100Ω, JPt 100Ω, Ni 508.4Ω, and others

Response Time

Approx. 2Hz-3dB (63%: 0.1s)
Isolated Signal Conditioner:High-level Signal Conditioners:High-level Signal Conditioners (Isolators)

MS4000-2W

Series

MS4003-2W

Rack Mount Type

2-Wire Millivolt Isolator
Amplifies millivolt signals from sensors or other devices and converts them into 4 to 20mA output signals.

Input

mV DC voltage (3 to 200mV DC span)

Response Time

Approx. 2Hz-3dB (63%: 0.1s)
Isolated Signal Conditioner:Pneumatic-Electric Converters:Pneumatic-Electric Converters

MS4000-2W

Series

PI4000-2W

Rack Mount Type

2-Wire Pneumatic-Electric Converter
Measures a pneumatic signal with a semiconductor pressure transducer and converts it into 4 to 20mA output signals.

Input

19.6 to 98.1KPa, 19.6 to 176.6KPa, 20 to 100KPa, 3 to 27psiG, 3 to 15psiG, and others

Response Time

Approx. 25ms (0 to 99%)
Overview
Download
Price
Standard Lead Time
Warranty Period
Standards & Approvals / RoHS
Power Supply
Details

The MS4000-2W Series is a line of rack-mount card type signal conditioners.
Up to 16 modules mountable in a JIS standard 19-inch rack
Simple circuit configuration providing long-term stability
*1 Products are warranted for years from the date of shipment.
Warranty Period *1
3Year

s

Standard Lead Time
45Day

s

Custom Products

Power Supply
12-48V DC
Connection
Mounted in an optional rack.
Module Specifications
Wiring
Wired to the rack for the MS4000-2W series. (M3 screw terminal connection)
Materials
Front panel
PBT
PCB
Glass epoxy double sided PCB
Isolation
2-way isolation between input and output.
Insulation Resistance
100MΩ min. (@ 500V DC) between input, output, power, and ground.
Dielectric Strength
500V AC for 1 minute between input and output.
Power Specifications
| | |
| --- | --- |
| Power Requirements | 12 to 48V, applied to output. |
Installation Specifications
| | |
| --- | --- |
| Operating Temperature Range | 0 to 50℃ |
| Operating Humidity Range | 90% RH (no condensing) |
| Storage Temperature Range | -10 to 60℃ |
| Installation | Mounted in the RC4000 rack. |
| Dimensions | W24.8×H99×D150mm |
| Weight | Approx. 110g |
Dimensional Drawings
MS400-2W Main Unit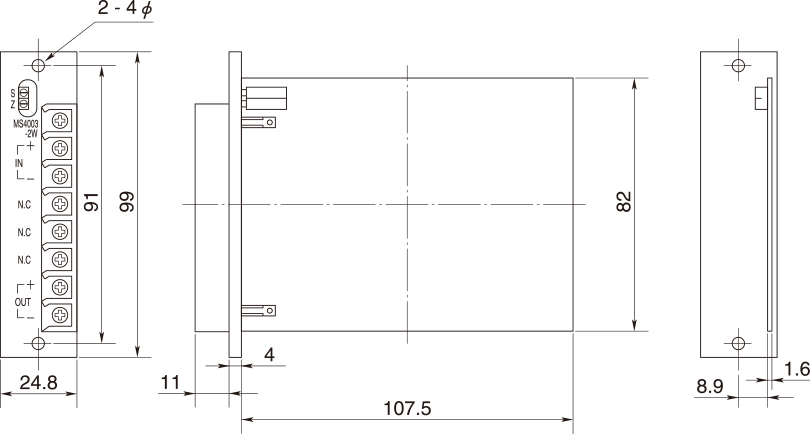 RC4000-16