SIGNAL CONDITIONERS
Isolated Signal Conditioner
MS4100

Series

【18】
Rack Mount Type Signal Conditioners with Isolated Dual Output
Isolated Signal Conditioner:Accessories:Non-conditioning I/O Adapters

MS4100

Series

MS4100-TB

Rack Mount Type

Non-Conditioning I/O Adapter
| | | | | | | | |
| --- | --- | --- | --- | --- | --- | --- | --- |
| I/O adapter used to connect to the output connectors for RC4100 without any signal conditioning | | | | | | | |
Isolated Signal Conditioner:Temperature Transmitters:Thermocouple Temperature Transmitters

MS4100

Series

MS4101

Rack Mount Type

Thermocouple Temperature Transmitter
Accepts millivolt signals from a thermocouple, performs cold junction compensation, amplification and linearization, and provides two mutually isolated DC output signals.

Input

Thermocouple types: K, E, J, T, B, and others

Output 1

4 to 20mA, 1 to 5V, 0 to 10V, 0 to 5V, 0 to 1V, and others

Output 2

1 to 5V, 0 to 10V, 0 to 5V, 0 to 1V, and others

Response Time

Approx. 2Hz-3dB (63%: 0.1s)
Isolated Signal Conditioner:Temperature Transmitters:RTD Temperature Transmitters

MS4100

Series

MS4102

Rack Mount Type

RTD Temperature Transmitter
Supplies constant current to RTD, performs cold junction compensation, amplification and linearization of its millivolt input signals, and provides two mutually isolated DC output signals.

Input

RTD: Pt 100Ω, JPt 100Ω, Ni 508.4Ω, and others

Output 1

4 to 20mA, 1 to 5V, 0 to 10V, 0 to 5V, 0 to 1V, and others

Output 2

1 to 5V, 0 to 10V, 0 to 5V, 0 to 1V, and others

Response Time

Approx. 2Hz-3dB (63%: 0.1s)
Isolated Signal Conditioner:High-level Signal Conditioners:High-level Signal Conditioners (Isolators)

MS4100

Series

MS4103

Rack Mount Type

Millivolt Isolator
Amplifies millivolt signals from sensors or other devices and converts them into two mutually isolated DC output signals.

Input

mV DC voltage (5 to 200mV DC span)

Output 1

4 to 20mA, 1 to 5V, 0 to 10V, 0 to 5V, 0 to 1V, and others

Output 2

1 to 5V, 0 to 10V, 0 to 5V, 0 to 1V, and others

Response Time

Approx. 2Hz-3dB (63%: 0.1s)
Isolated Signal Conditioner:High-level Signal Conditioners:High-level Signal Conditioners (Isolators)

MS4100

Series

MS4104

Rack Mount Type

High-Level Signal Conditioner (Isolator)
Converts high-level DC input signals into two mutually isolated DC output signals.

Input

4 to 20mA, 1 to 5V, 0 to 10V, +/-10V, 0 to 5V, 0 to 1V, and others

Output 1

1 to 5V, 0 to 1V, 0 to 5V, 0 to 10V, 4 to 20mA, and others

Output 2

1 to 5V, 0 to 1V, 0 to 5V, 0 to 10V, and others

Response Time

Approx. 2Hz-3dB (63%: 0.1s)
Isolated Signal Conditioner:Alarm Setters:Alarm Setters

MS4100

Series

MS4105

Rack Mount Type

Alarm Setter (Alarm Unit)
Compares the levels of DC current or voltage signals with two set-points and outputs two independent isolated relay contact closure signals.

Input

4 to 20mA, 1 to 5V, 0 to 10V, 0 to 5V, 0 to 1V, and others
Isolated Signal Conditioner:Distributors:Distributors

MS4100

Series

MS4107

Rack Mount Type

Distributor
Powers a two-wire transmitter and converts its 4 to 20mA signals into two mutually isolated DC output signals.

Output 1

1 to 5V, 0 to 1V, 0 to 5V, 0 to 10V, 4 to 20mA, and others

Output 2

1 to 5V, 0 to 1V, 0 to 5V, 0 to 10V, 4 to 20mA, and others

Response Time

Approx. 2Hz-3dB (63%: 0.1s)
Isolated Signal Conditioner:Frequency Converters:Pulse Shapers (Pulse Isolators)

MS4100

Series

MS4109

Rack Mount Type

Pulse Shaper
Amplifies pulse input signals, shapes these pulses, and converts them into two mutually isolated pulse output signals.

Input

Dry contact, open collector, DC voltage pulse, AC voltage pulse

Output 1

TTL, open collector, voltage pulse

Output 2

TTL, open collector, voltage pulse
Isolated Signal Conditioner:Sensor Signal Conditioners:Potentiometer Transmitters

MS4100

Series

MS4110

Rack Mount Type

Potentiometer Transmitter
Supplies constant current to potentiometric sensors, amplifies the millivolt signals, and converts them into two mutually isolated DC output signals.

Input

Specify between 0-100Ω and 0-10kΩ from 3-wire potentiometer

Output 1

1 to 5V, 0 to 1V, 0 to 5V, 0 to 10V, 4 to 20mA, and others

Output 2

1 to 5V, 0 to 1V, 0 to 5V, 0 to 10V, and others

Response Time

Approx. 2Hz-3dB (63%: 0.1s)
Isolated Signal Conditioner:High-level Signal Conditioners:High-level Signal Output Modules

MS4100

Series

MS4154

Rack Mount Type

High-Level Signal Conditioner for Output
Converts high-level DC input signals into two mutually isolated DC output signals.

Input

1 to 5V, 0 to 5V, 0 to 10V

Output 1

1 to 5V, 0 to 5V, 0 to 10V, 4 to 20mA

Output 2

1 to 5V, 0 to 5V, 0 to 10V

Response Time

Approx. 2Hz-3dB (63%: 0.1s)
Isolated Signal Conditioner:Alarm Setters:Alarm Setters

MS4100

Series

MS4175

Rack Mount Type

Alarm Setter (Alarm Unit) for 2-Wire Transmitter
| | | | | | | | |
| --- | --- | --- | --- | --- | --- | --- | --- |
| Powers a two-wire transmitter, compares its 4 to 20mA signals with two set-points and outputs two independent isolated relay contact closure signals. | | | | | | | |
Isolated Signal Conditioner:Power Supply Units:AC Power Supply Units

MS4100

Series

PS4100-A

Rack Mount Type

AC Power Supply Unit
Accepts commercial AC power and provides 24V DC power for the MS4100 series signal conditioners.

Input

100V AC, 110V AC, 115V AC, 200V AC, 220V AC, 240V AC
Isolated Signal Conditioner:Chassis:Chassis for MS4100

MS4100

Series

RC4100-04

Rack Mount Type

Rack
| | | | | | | | |
| --- | --- | --- | --- | --- | --- | --- | --- |
| Rack for the MS4100 series signal conditioners | | | | | | | |
Isolated Signal Conditioner:Chassis:Chassis for MS4100

MS4100

Series

RC4100-08

Rack Mount Type

Rack
| | | | | | | | |
| --- | --- | --- | --- | --- | --- | --- | --- |
| Rack for the MS4100 series signal conditioners | | | | | | | |
Isolated Signal Conditioner:Chassis:Chassis for MS4100

MS4100

Series

RC4100-12

Rack Mount Type

Rack
| | | | | | | | |
| --- | --- | --- | --- | --- | --- | --- | --- |
| Rack for the MS4100 series signal conditioners | | | | | | | |
Isolated Signal Conditioner:Chassis:Chassis for MS4100

MS4100

Series

RC4100-16

Rack Mount Type

Rack
| | | | | | | | |
| --- | --- | --- | --- | --- | --- | --- | --- |
| Rack for the MS4100 series signal conditioners | | | | | | | |
Isolated Signal Conditioner:Accessories:I/O Cables

MS4100

Series

CB4100

Rack Mount Type

I/O Cable
| | | | | | | | |
| --- | --- | --- | --- | --- | --- | --- | --- |
| Cable assembly for the RC4100 I/O connectors | | | | | | | |
Isolated Signal Conditioner:Accessories:Blank Panels

MS4100

Series

MP4100

Rack Mount Type

Blank Panel
| | | | | | | | |
| --- | --- | --- | --- | --- | --- | --- | --- |
| Used to fill unused slots in the RC4100 chassis. | | | | | | | |
Overview
Download
Price
Standard Lead Time
Warranty Period
Standards & Approvals / RoHS
Power Supply
Details

The MS4100 Series is a line of rack-mount card type signal conditioners.
The unit has a power switch and an LED on its front panel and includes a fuse in its power line as standard equipment.
Selected components and no electrolytic capacitors for ensuring long-term reliability
Isolated dual output
Up to 16 modules mountable in a JIS standard 19-inch rack
Simple circuit configuration providing low power consumption and long-term stability
Transformer isolation ensuring high accuracy and high reliability
*1 Products are warranted for years from the date of shipment.
Warranty Period *1
3Year

s

Standard Lead Time
45Day

s

Custom Products

Power Supply
Rating: 24V DC
Connection
Mounted in an optional rack.
Module Specifications
Wiring
Wired to the rack for the MS4100 series. (M3.5 screw terminal connection)
Materials
Front panel
PBT
PCB
Glass epoxy double sided PCB
Isolation
4-way isolation between input, output 1, output 2, and power.
Insulation Resistance
100MΩ min. (@ 500V DC) between input, output, power, and ground.
Dielectric Strength
500V AC for 1 minute between input, output 1, output 2, and power.
1500V AC for 1 minute between [input/output/power] and ground.
Power Specifications
| | |
| --- | --- |
| Power Requirements | 24V DC+/-10%, supplied via the RC4100. |
| Power line fuse | 2.2Ω, 1/4W fuse resistor |
Installation Specifications
| | |
| --- | --- |
| Operating Temperature Range | 0 to 50℃ |
| Operating Humidity Range | 90% RH (no condensing) |
| Storage Temperature Range | -10 to 60℃ |
| Installation | Mounted in the RC4100 rack. |
| Dimensions | W24.8×H99×D148mm |
| Weight | Approx. 110g |
Dimensional Drawings
MS400-2W Main Unit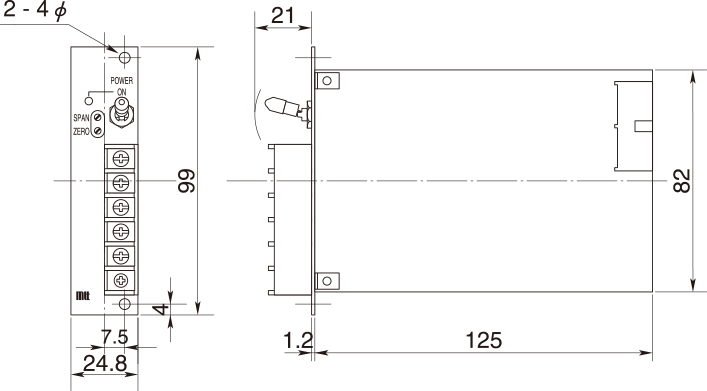 RC4000-16