SIGNAL CONDITIONERS
Isolated Signal Conditioner
MS5000

Series

【12】
Ultra-slim Isolated Signal Conditioners
Isolated Signal Conditioner:Accessories:Non-conditioning I/O Adapters

MS5000

Series

MS5000TH

Unit Type

Non-Conditioning I/O Adapter
I/O adapter that does not provide any signal conditioning. Units can be ordered with a single or dual circuit, with or without a shunt resistor (250Ω), and with or without an input selector.

Input

Output 1

Dependent on input signal and input resistance.
Overview
Download
Price
Standard Lead Time
Warranty Period
Standards & Approvals / RoHS
Power Supply
Details

The MS5000 Series features 6.2 mm ultra-slim design, high reliability and durability as in the MS2900 series, and a 7-year warranty, the longest in the industry. The series employs conformal coating, multi-turn trimmers and transformer isolation, which are the primary features of MTT products.
6.2 mm wide
European style screw terminal block
Isolated single output (3-way isolation)
A total of 5 models
*1 Products are warranted for years from the date of shipment.
Warranty Period *1
7Year

s

Standard Lead Time
5Day

s

Power Supply
Rating: 24V DC
Connection
DIN rail mounting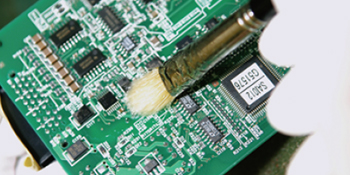 Conformal coating applied as standard
Coating is not only resistant to accidental exposure to corrosive gas or oily smoke, but has a number of benefits contributing to long-term reliability. It avoids direct exposure to air to protect printed circuit boards and electronic parts against humidity, moisture, dust, chemicals, and thermal stress, thereby preventing corrosion, migration and any other damages. (HumiSeal® 1A27NSLU is used as a conformal coating. )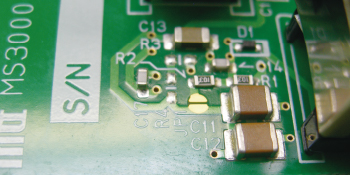 Ceramic capacitors employed
This series employs ceramic capacitors to achieve low current draw with extremely low heat generation, thus leading to long service life.
(The ceramic capacitors are not affected by prolonged use, as opposed to aluminum electrolytic capacitors.)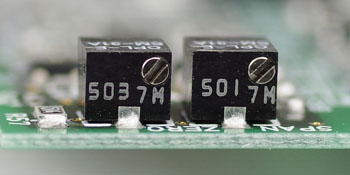 Multi-turn trimmers employed
This series employs multi-turn trimmers for zero and span adjustments. Our conventional series have used 3-turn or 4-turn trimmers, but the multi-turn trimmers employed facilitate fine adjustment and provide improved resistance to vibration. The new trimmers also have static protection.
Efficient power connection for multiple use
Using a power supply unit, power bridge, and connector enables concentrated power supply, thereby making the wiring work more efficient.