ISOLATION MODULE
Isolation Module
M35/36/37

Series

【35】
Isolation Modules
Isolation Module:High-level Signal Conditioners:Input Isolation Modules

M35/36/37

Series

M3500B

Rack Mount Type

Isolation Module (Input; Bottom Trimmer; +/-10V; 2kHz-3dB)
Isolation module for +/-10V voltage signals

Response Time

2kHz-3dB or 200µs max. (0 to 90%) with 100% step input
Isolation Module:Accessories:Module Fixing Nut

M35/36/37

Series

M3500-TB-BOSS

Rack Mount Type

Module Fixing Nut
| | | | | | | | |
| --- | --- | --- | --- | --- | --- | --- | --- |
| Used to fix an isolation module to a printed circuit board. | | | | | | | |
Isolation Module:High-level Signal Conditioners:Input Isolation Modules

M35/36/37

Series

M3501B

Rack Mount Type

Isolation Module (Input; Bottom Trimmer; 0-10V; 2kHz-3dB)
Isolation module for 0 to 10V voltage signals

Response Time

2kHz-3dB or 200µs max. (0 to 90%) with 100% step input
Isolation Module:High-level Signal Conditioners:Input Isolation Modules

M35/36/37

Series

M3504B

Rack Mount Type

Isolation Module (Input; Bottom Trimmer; +/-10V; 1kHz-3dB)
Isolation module for +/-10V voltage signals

Response Time

1kHz-3dB or 450µs max. (0 to 90%) with 100% step input
Isolation Module:High-level Signal Conditioners:Input Isolation Modules

M35/36/37

Series

M3530B

Rack Mount Type

Isolation Module (Input; Top Trimmer; +/-10V; 2kHz-3dB)
Isolation module for +/-10V voltage signals

Response Time

2kHz-3dB or 200µs max. (0 to 90%) with 100% step input
Isolation Module:High-level Signal Conditioners:Input Isolation Modules

M35/36/37

Series

M3530B1

Rack Mount Type

Isolation Module (Input; Top Trimmer; +/-10V; 2kHz-3dB; High Output Load)
Isolation module for +/-10V voltage signals

Response Time

2kHz-3dB or 200µs max. (0 to 90%) with 100% step input
Isolation Module:High-level Signal Conditioners:Input Isolation Modules

M35/36/37

Series

M3531B

Rack Mount Type

Isolation Module (Input; Top Trimmer; 0-10V; 2kHz-3dB)
Isolation module for 0 to 10V voltage signals

Response Time

2kHz-3dB or 200µs max. (0 to 90%) with 100% step input
Isolation Module:High-level Signal Conditioners:Output Isolation Modules

M35/36/37

Series

M3600B

Rack Mount Type

Isolation Module (Output; Bottom Trimmer; +/-10V; 2kHz-3dB)
Isolation module for +/-10V voltage signals

Response Time

2kHz-3dB or 200µs max. (0 to 90%) with 100% step input
Isolation Module:High-level Signal Conditioners:Output Isolation Modules

M35/36/37

Series

M3601B

Rack Mount Type

Isolation Module (Output; Bottom Trimmer; 0-10V; 2kHz-3dB)
Isolation module for 0 to 10V voltage signals

Response Time

2kHz-3dB or 200µs max. (0 to 90%) with 100% step input
Isolation Module:High-level Signal Conditioners:Output Isolation Modules

M35/36/37

Series

M3601HV

Rack Mount Type

Isolation Module (Output; Bottom Trimmer; 0-10V; 2kHz-3dB; High Dielectric Strength)
Isolation module for 0 to 10V voltage signals

Response Time

2kHz-3dB or 200µs max. (0 to 90%) with 100% step input
Isolation Module:High-level Signal Conditioners:Output Isolation Modules

M35/36/37

Series

M3602B

Rack Mount Type

Isolation Module (Output; Bottom Trimmer; 0-1V / 4-20mA; 250Hz-3dB)
This isolation module converts 0 to 1V DC signals into 4 to 20mA DC signals.

Response Time

2kHz-3dB or 200µs max. (0 to 90%) with 100% step input
Isolation Module:High-level Signal Conditioners:Output Isolation Modules

M35/36/37

Series

M3606B

Rack Mount Type

Isolation Module (Output; Bottom Trimmer; 1-5V / 4-20mA; 250Hz-3dB)
This isolation module converts 0 to 5V DC signals into 4 to 20mA DC signals.

Response Time

2kHz-3dB or 200µs max. (0 to 90%) with 100% step input
Isolation Module:High-level Signal Conditioners:Output Isolation Modules

M35/36/37

Series

M3607B

Rack Mount Type

Isolation Module (Output; Bottom Trimmer; 0-5V/4-20mA; 250Hz-3dB)
This isolation module converts 0 to 5V DC signals into 4 to 20mA DC signals.

Response Time

2kHz-3dB or 200µs max. (0 to 90%) with 100% step input
Isolation Module:High-level Signal Conditioners:Output Isolation Modules

M35/36/37

Series

M3630B

Rack Mount Type

Isolation Module (Output; Top Trimmer; +/-10V; 2kHz-3dB)
Isolation module for +/-10V voltage signals

Response Time

2kHz-3dB or 200µs max. (0 to 90%) with 100% step input
Isolation Module:High-level Signal Conditioners:Output Isolation Modules

M35/36/37

Series

M3631B

Rack Mount Type

Isolation Module (Output; Top Trimmer; 0-10V; 2kHz-3dB)
Isolation module for 0 to 10V voltage signals

Response Time

2kHz-3dB or 200µs max. (0 to 90%) with 100% step input
Isolation Module:High-level Signal Conditioners:Output Isolation Modules

M35/36/37

Series

M3636B

Rack Mount Type

Isolation Module (Output; Top Trimmer; 1-5V / 4-20mA; 250Hz-3dB)
This isolation module converts 1 to 5V DC signals into 4 to 20mA DC signals.

Response Time

250Hz-3dB or 2ms max. (0 to 90%) with 100% step input
Isolation Module:High-level Signal Conditioners:Output Isolation Modules

M35/36/37

Series

M3637B

Rack Mount Type

Isolation Module (Output; Top Trimmer; 0-5V / 4-20mA; 250Hz-3dB)
This isolation module converts 0 to 5V DC signals into 4 to 20mA DC signals.

Response Time

250Hz-3dB or 2ms max. (0 to 90%) with 100% step input
Isolation Module:High-level Signal Conditioners:Output Isolation Modules

M35/36/37

Series

M3700B

Rack Mount Type

Isolation Module (Output; Bottom Trimmer; +/-10V; 2kHz-3dB; High Output Load)
Isolation module for +/-10V voltage signals

Response Time

2kHz-3dB or 200µs max. (0 to 90%) with 100% step input
Isolation Module:High-level Signal Conditioners:Output Isolation Modules

M35/36/37

Series

M3702B

Rack Mount Type

Isolation Module (Output; Bottom Trimmer; 0-10V; 2kHz-3dB; High Output Load)
Isolation module for 0 to 10V voltage signals

Response Time

2kHz-3dB or 200µs max. (0 to 90%) with 100% step input
Isolation Module:High-level Signal Conditioners:Input Isolation Modules

M35/36/37

Series

M3501BHV

Rack Mount Type

Isolation Module (Input; Bottom Trimmer; 0-10V; 2kHz-3dB)
Isolation module for 0 to 10V voltage signals

Response Time

2kHz-3dB or 200µs max. (0 to 90%) with 100% step input
Isolation Module:Chassis:Chassis for MS35

M35/36/37

Series

RC3500-08TB

Rack Mount Type

Rack Chassis
| | | | | | | | |
| --- | --- | --- | --- | --- | --- | --- | --- |
| Chassis for mounting isolation modules | | | | | | | |
Isolation Module:Chassis:Chassis for MS35

M35/36/37

Series

RC3500-16TB

Rack Mount Type

Rack Chassis
| | | | | | | | |
| --- | --- | --- | --- | --- | --- | --- | --- |
| Chassis for mounting isolation modules | | | | | | | |
Isolation Module:Chassis:Chassis for MS35

M35/36/37

Series

RC3500-B-04F

Rack Mount Type

Rack Chassis
| | | | | | | | |
| --- | --- | --- | --- | --- | --- | --- | --- |
| Chassis for mounting isolation modules | | | | | | | |
Isolation Module:Chassis:Chassis for MS35

M35/36/37

Series

RC3500-B-04TB

Rack Mount Type

Rack Chassis
| | | | | | | | |
| --- | --- | --- | --- | --- | --- | --- | --- |
| Chassis for mounting isolation modules | | | | | | | |
Isolation Module:Chassis:Chassis for MS35

M35/36/37

Series

RC3500-B-08F

Rack Mount Type

Rack Chassis
| | | | | | | | |
| --- | --- | --- | --- | --- | --- | --- | --- |
| Chassis for mounting isolation modules | | | | | | | |
Isolation Module:Chassis:Chassis for MS35

M35/36/37

Series

RC3500-B-08TB

Rack Mount Type

Rack Chassis
| | | | | | | | |
| --- | --- | --- | --- | --- | --- | --- | --- |
| Chassis for mounting isolation modules | | | | | | | |
Isolation Module:Chassis:Chassis for MS35

M35/36/37

Series

RC3500-B-16F

Rack Mount Type

Rack Chassis
| | | | | | | | |
| --- | --- | --- | --- | --- | --- | --- | --- |
| Chassis for mounting isolation modules | | | | | | | |
Isolation Module:Chassis:Chassis for MS35

M35/36/37

Series

RC3500-B-16TB

Rack Mount Type

Rack Chassis
| | | | | | | | |
| --- | --- | --- | --- | --- | --- | --- | --- |
| Chassis for mounting isolation modules | | | | | | | |
Isolation Module:Chassis:Chassis for MS36

M35/36/37

Series

RC3600-08TB

Rack Mount Type

Rack Chassis
| | | | | | | | |
| --- | --- | --- | --- | --- | --- | --- | --- |
| Chassis for mounting isolation modules | | | | | | | |
Isolation Module:Chassis:Chassis for MS36

M35/36/37

Series

RC3600-16TB

Rack Mount Type

Rack Chassis
| | | | | | | | |
| --- | --- | --- | --- | --- | --- | --- | --- |
| Chassis for mounting isolation modules | | | | | | | |
Overview
Download
Price
Standard Lead Time
Warranty Period
Standards & Approvals / RoHS
Power Supply
Details

The M35/36/37 Series is a line of 2-way analog isolation modules. The series provides the best compromise between performance and cost by eliminating the isolation between the system signals and power line.
2-way isolation ultra-compact module and special chassis
Low-cost, ultra-compact long-selling series
Isolated single output (2-way isolation)
Suitable for applications including isolation of I/O stages in A/D or D/A boards, such as PCs
Voltage-voltage converter with a response frequency of 2kHz-3dB, supporting wideband signals
*1 Products are warranted for years from the date of shipment.
Module
Warranty Period *1
3Year

s

Standard Lead Time
4Day

s

Custom Products
Model-specific chassis
Warranty Period *1
3Year

s

Standard Lead Time
4Day

s

Custom Products

Connection
M3.5 screw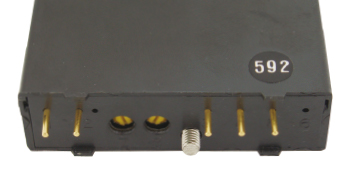 Gold-plated I/O pins and polyurethane resin potting for enhanced durability
For higher reliability and durability, input and output pins are gold-plated. This helps to prevent not only contact wear caused by insertion and removal of the unit, but also contact degradation even in harsh environments to ensure high reliability for a long period. The inside of the unit is potted with polyurethane resin to enhance durability.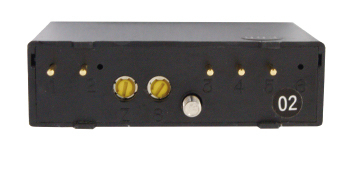 Underside trimmer variant available
The series offers an underside trimmer variant, where the trimmers for adjustment are located on the underside of the unit. This construction prevents the trimmer settings from being inadvertently changed.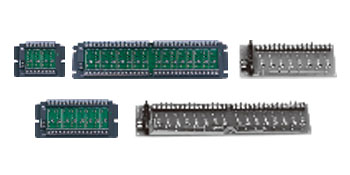 A wide variety of chassis available
A wide variety of chassis are available, including:
- 19-inch rack mounting
- Embedding
- Computer interface convenient for handling in a laboratory